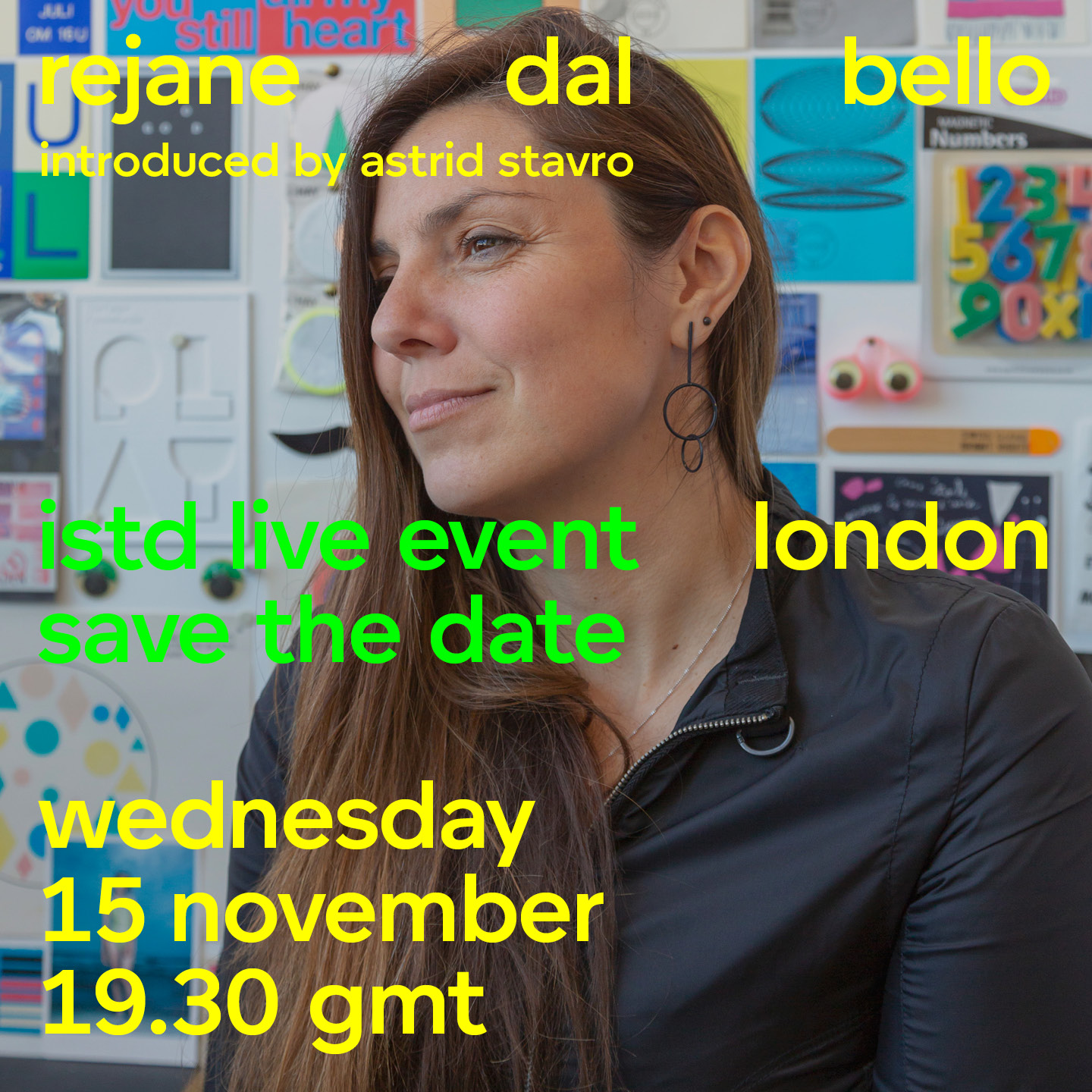 Next ISTD event:
ISTD live event London, Wednesday 15 November
Rejane Dal Bello
Join ISTD for a live event at Fedrigoni, London on Wednesday 15 November at 19.30 GMT with creative director, AGI member, and founder of SRDB, Rejane Dal Bello, who will be introduced by ISTD President Astrid Stavro. A recording will be made available after the event.
Watch other previous live events below
The ISTD talks to Shiva Nallaperumal
Matt Lamont: Collecting, Curating and Creating,A Celebration of Graphic Design History
Astrid Stavro introduces Ariane Spanier
DEMO – Design in Motion Festival. Astrid Stavro introduces Liza Enebeis
Munich 1972: The Visual Output, a conversation
with Mark Holt and Ian McLaren
Dante: A Typographic Conversation with Barrie Tullett and Dr Catherine Dixon
A conversation with Samira Bouabana from Hall of Femmes, interviewed by Teal Triggs FISTD
ISTPhD: Lettering and typography
at the British seaside
Russell Bestley, Kate McLean and Gill Brown joined for a discussion and shared their experience in An Introduction to Design PhDs.
ISTPhD: An introduction to design PhDs
ISTD | Talking Type: Three Honorary ISTD Fellows
in conversation
Our first event So what exactly is it that you do ...and why? included Lucienne Roberts, Jim Northover and Andy Altmann.
Interested?
Join us and help set the benchmark for typographic excellence.